With the rise of e-commerce and the increasing importance of having a website, finding the right website builder that suits your needs is essential. Choosing the right website builder can make or break your online business success.
But there are so many choices on the market that it can be hard to choose the right one. We tested and compared these website builders in different ways to find out how well they work.
In this blog post, we'll explore the best website builders for small businesses in 2023. Let's dive into it.
List Of Top Website Builders for Small Businesses in 2023
Webflow
While other website builders offer simple drag-and-drop solutions, Webflow takes things to the next level with its granular customization options. Every website element can be visually manipulated to achieve your desired look and feel.
But let's be real. With this level of customization comes a steeper learning curve than other website builders. If you're unfamiliar with HTML and CSS coding, it might take some time to get the hang of Webflow.
However, don't worry! Webflow offers a wealth of resources, including Webflow University, where you can learn everything you need about building a website on their platform.
Features:
Super fast instant load times
CMS API available
Content templates
Good Security
Visual Editing
Integrations
Drawbacks :
Extensive pricing plans
Lack of code customizations
Free Plan : Yes
Price: Plans start at $14 / month (billed annually)
Wix
Wix is our next favored platform. It is a website builder that stands out because of its ease of use and AI-powered design assistance. It's an ideal tool for small business owners and entrepreneurs who need more technical expertise or coding knowledge but want to create a professional-looking website quickly.
There are over 250 apps available, including tools for social media integration, e-commerce, booking systems, and more. This flexibility makes it easy to customize your site to meet your unique needs.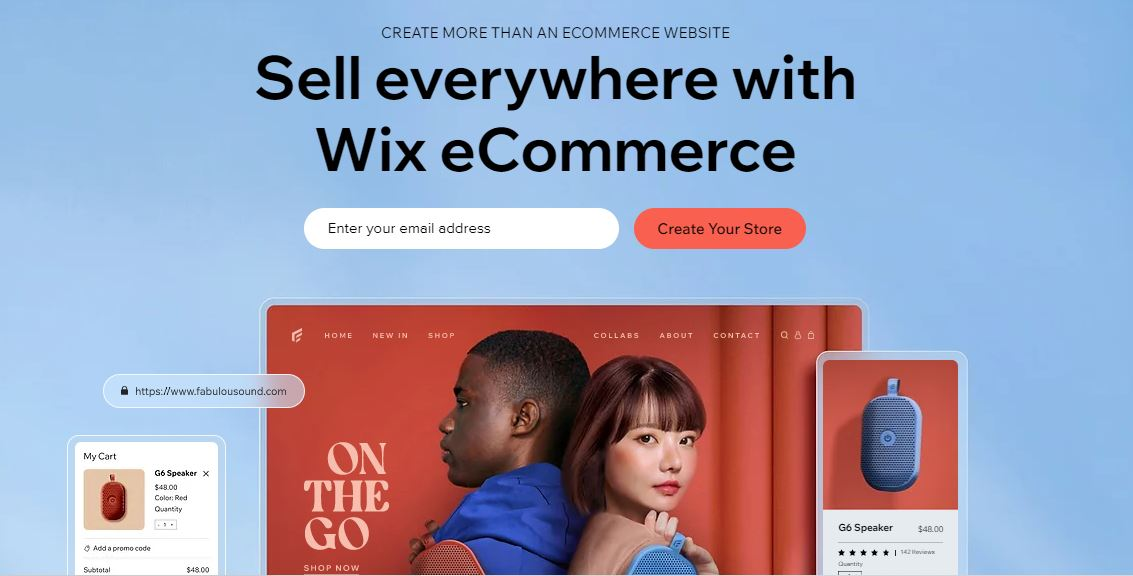 Wix's user-friendly interface and drag-and-drop editor make it simple to customize and design your site to your specifications.
Its templates are also easy to navigate, with a wide range of options. If you're looking for something more specific, you can filter templates by categories, such as business, online store, or blog.
Features:
Powerful editor
Design flexibility
Scroll Effects
Mobile site optimization
E-commerce Integration
SEO Management
Drawbacks :
Can't switch templates
Key Features need Premium Plan
Free Plan : Yes
Price: Basic Starts From $4.50/month And VIP Plan From $24.50/month
Squarespace
Squarespace is the perfect platform for businesses of all stages to easily launch their online presence. With its user-friendly interface and customizable templates, building a website for your business is now an effortless eight-step process.
From text to photos to audio, Squarespace supports various content types to be added to the website. Moreover, the platform offers the convenience of duplicating pages and sections to speed up the building process.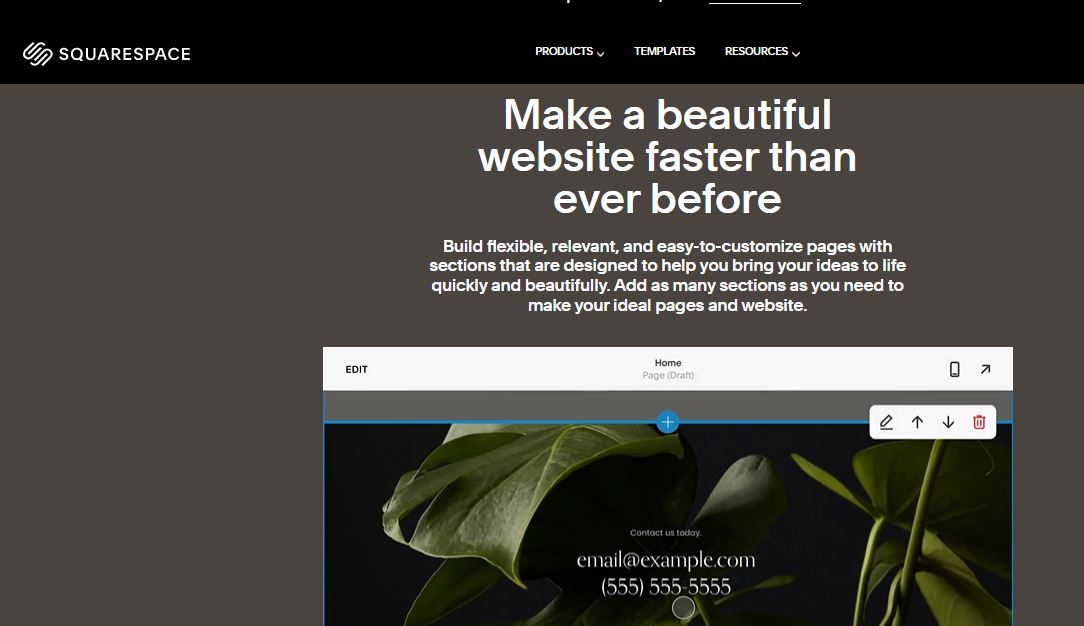 But that's not all. Squarespace is also a design powerhouse with a vast collection of fully responsive templates that are both stunning and modern. Each template comes with customizable elements, such as fonts, colors, background images, and banners, that you can tweak to fit your brand.
Features:
Design Tools
Custom CSS
Custom Site Search Engine
Accounting Integration
Built-in Mobile Websites
Customizable Templates
Drawbacks :
Email Marketing
Shortage of plugins and extensions
Occasional slowness
Free Plan : No
Price : Starts From $14 per month
Shopify
Shopify is a popular website builder among entrepreneurs and small business website owners due to the vast amount of features it offers.
So, what's all the hype about? Well, let me tell you. Shopify has everything you need to create a top-notch online store, regardless of whether you're a seasoned pro or just starting out.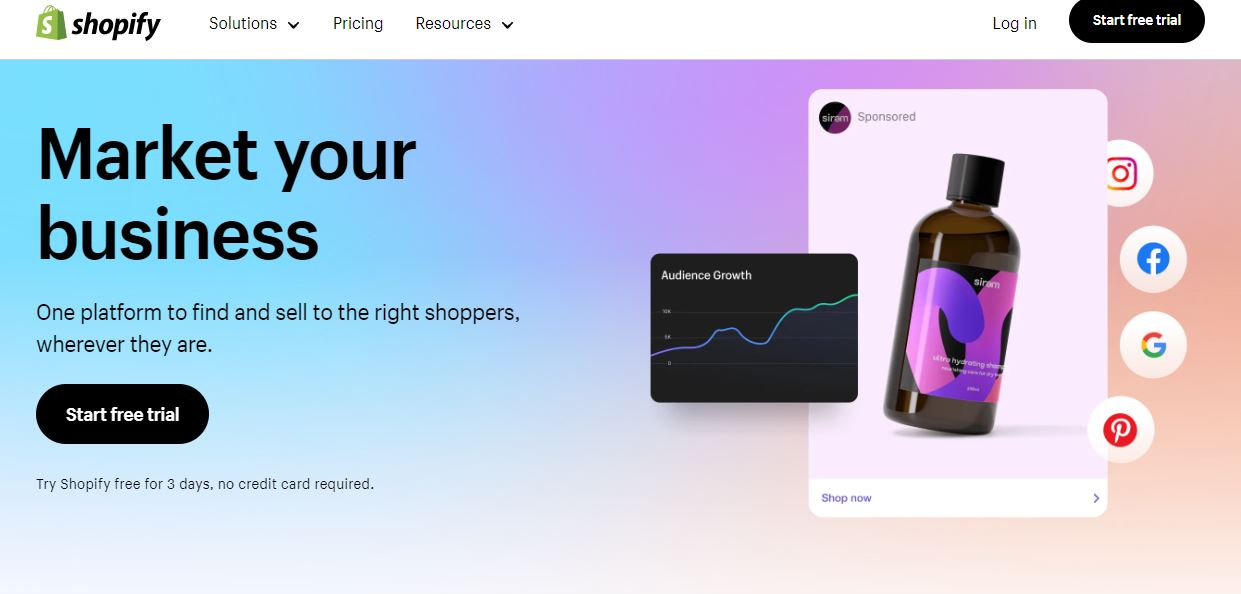 One of the best things about Shopify is that it provides a vast library of free and paid themes to help you kickstart your website without requiring any coding skills.
But it's not just about the website design. Shopify has a ton of built-in marketing tools that help you get the word out about your business. From email marketing to social media integration, Shopify has everything you need to reach new customers and grow your online presence.
Features:
Ideal for Online stores
Multi-platform selling
International selling features
Reporting and Analytics
Diverse app library
Drawbacks :
High fees:
Limited design customizability
Transition Difficulty
Free Plan : No . But 30 Day Risk Free Trial Available
Price: Starting at $19 per month and for advance starting at $299 per month
Duda
Best for a flexible solution with a simple editor. It is a platform with a lot of features that lets you make websites with little or no code.
Duda is a formidable force in the website-building world, boasting a staggering 15 million websites powered by their platform. Their mission is to make web design an effortless and uncomplicated process, allowing users to focus on creating stunning websites without the hassle.
With Duda, you don't need to have any prior knowledge or development skills to create a website that will blow your audience away.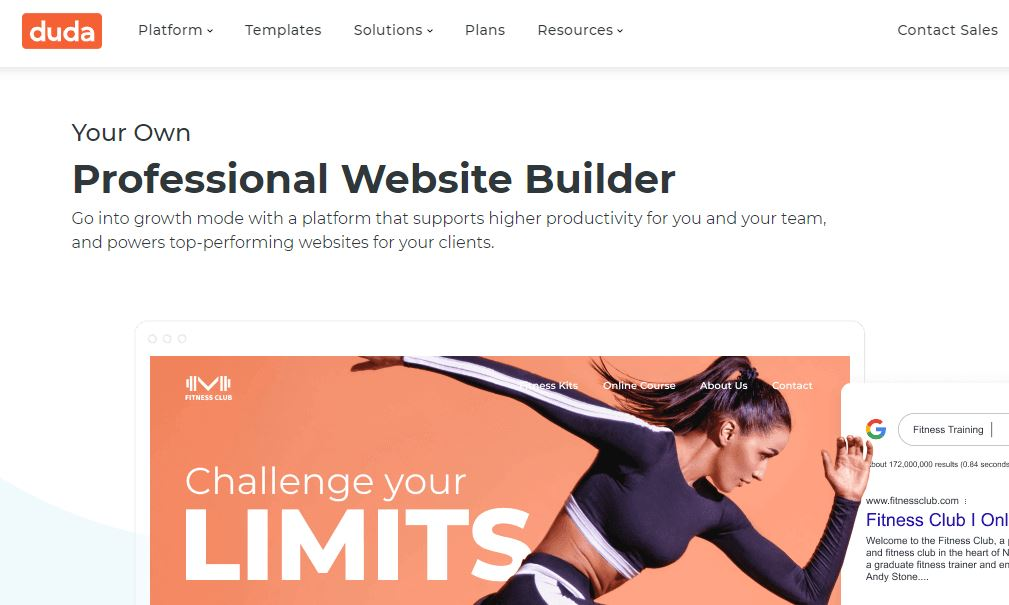 It's a website builder perfect for beginners and experts alike, with a wide range of templates you can customize to your website content.
Editing the templates is simple; replace the pre-existing content with your images, texts, widgets, and pages, and voila – you have a beautiful, professional-looking website ready to be published online.
Features:
Capable web store tools
Custom CSS and HTML code
Strong e-commerce options
Unlimited storage
Client management tools
Drawbacks :
Expensive.
It doesn't let you switch templates
The editor is sometimes slow.
Free Plan : No
Price : starting at $14 per month and for advance starting at $44 per month
Carrd
Well, Carrd is an incredibly versatile website builder, enabling users to quickly and easily create top-notch and powerful one-page sites with the needed resources. It is incredibly user-friendly and perfect for experienced web developers and novice users.

With its drag and drop system, even those who have never built a website can use Carrd to make a professional-looking site in minutes.
Other features include pre-made blocks, hundreds of customizable designs and templates, subdomains, sorting & filtering options for product galleries and many more.
Features:
Easy to use
Design flexibility
Advance Animation
eCommerce integration
Pro Templates
Professional Website Design
One Page Sites
Drawbacks :
No Blog Support
No Ecommerce option
Limited design freedom
Free Plans: Yes
Price : Starting at $9 per Year
WordPress
Starting a business and running a store is no easy feat, but with WordPress, you're one step closer to success. This platform is perfect for creating a simple and stunning small business websites to help you connect with your customers quickly.
What's even better is that WordPress.com comes with unlimited templates, so you'll always have options. And if you're feeling extra creative, you can customize the templates with CSS to make your website truly unique.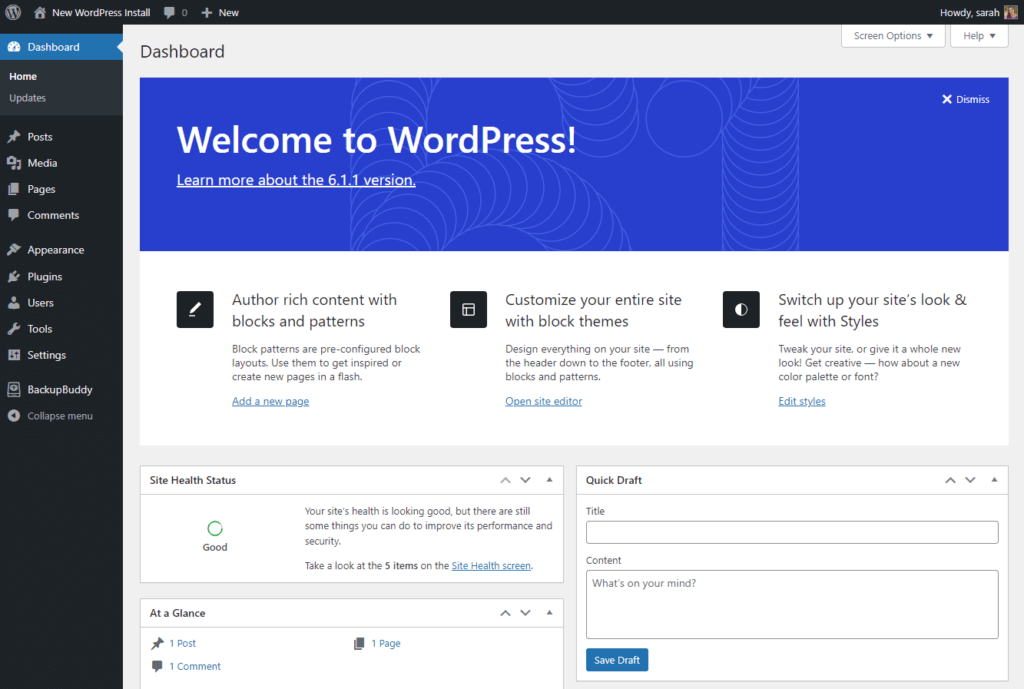 While it can do just about anything you want it to, it requires a bit of web design know-how and a steep learning curve. That's why we only recommend it to businesses that want to harness its full capabilities (which requires the Business plan).
Daily bloggers will appreciate its customizability and SEO tools, and online sellers will love the many e-commerce plugins that can help them grow their business.
With all its plugins and templates, WordPress can help you create a feature-filled, beautiful website that will wow your customers and drive your business forward.
Features
Product Design and Functionality
User Friendly CMS
Easy to create
Custom domain
Marketing features
Web hosting solution
Huge collection of extensions, add-ons, and plugins
Good Security
No monetization limitation
Wide range of support resources
Drawbacks :
No official support
Customization limits
Drag-and-drop website
Free Plan: Yes
Price : starting at $4 per month
Weebly
Are you considering building a website for your business or personal brand but don't want to spend a lot of money? Weebly might be the website builder for you.
With its generous free Plan, it's a popular choice for beginners who want to get their feet wet in website building.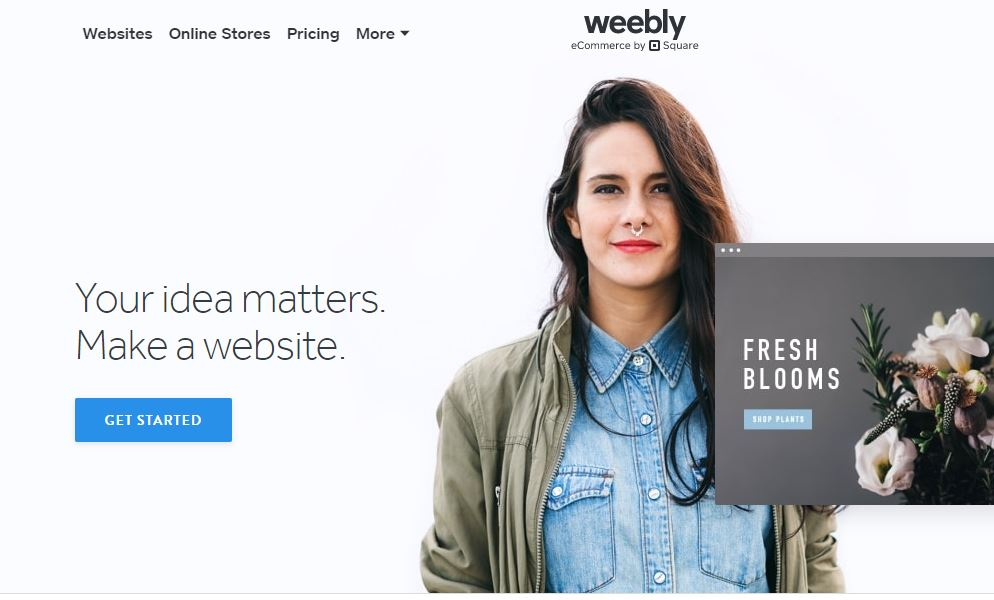 One of the biggest selling points of Weebly is its simplicity. The new editor makes navigating and editing your website's content and design incredibly easy. With various preset layouts to choose from, you can customize your website to your liking and add or remove elements as needed.
But Weebly isn't just about simplicity. It also offers a range of features that can help you grow your online presence. Its strong SEO features and support can help boost your website's visibility on search engines, while marketing tools like coupons and newsletters can help you reach new customers.
Features :
Responsive Themes
Free domain
Ease of use
SEO Guidance
Team Management
User-friendly
Big app center
Drawbacks :
Scalability
Not enough themes
Free Plan: yes
Price : Starting at $10 per month
Criteria For Selecting The Best Website Builders For Small Business
It's important to consider several key elements that can help you make the right choice. Here are some of the most important factors to keep in mind:
Determine your business needs.
At first, step is to identify what you need from your website. Do you need an e-commerce platform? Do you need a website with a blog? Do you need a website that's easy to edit and update?
These are important questions to consider when selecting a website builder.
Check price
 Before you start looking for a site builder, determine how much you can afford to spend. Consider the costs of domain registration, hosting, and website design.
Many website builders offer free plans, while others charge between $5 to $40 a month for plans that provide features suitable for businesses. Look for plans that bundle the services you need to save money.
Look for scalability
Your business will grow, and you want a website builder to grow with you. Look for a website builder that offers scalable options, such as adding more pages or features as your business grows.
Consider the Number of Themes
When you use a website builder, your design process starts with the themes the builder provides. Make sure the website builder you choose has enough themes that you'll be able to find one that makes a good starting point for your website.
Evaluate customer support
You want a website builder with excellent customer support. Look for a website builder that offers multiple support channels, such as phone, email, and chat. Also, check out customer reviews to see how quickly and effectively the website builder responds to customer inquiries.
Review security features
Security is a crucial aspect of any website. Look for a website builder with SSL certificates and other security features to protect your website and customer data.
FAQ
What Is The Best Website Builder For Entrepreneurs?
But with so many website builders on the market, choosing the one that's best for you can be confusing. Fortunately, there are some great options. One of the top choices for entrepreneurs is Wix.
It offers a range of customization options, allowing you to create a website that reflects your brand and communicates your message with clarity and impact.
Which Website Builder Is Best For Selling?
When setting up your own website, you must ensure that your website builder is up to the challenge!
Fortunately, Shopify is one of the few builders that offers everything you need in one place: functional and customizable themes, intuitive order processing and tracking systems, payment gateway integration options, advanced marketing tools – even 24/7 technical support.
What Is The Most Beginner-friendly Website Builder?
After using more than 100 websites and use cases, we can say that WordPress is the easiest website builder for beginners to use.
It offers a drag-and-drop interface, which means you can easily add, remove, and arrange elements on your website without any coding skills.
WordPress also provides a wide range of free templates and designs to choose from, so you don't have to start from scratch.
Wrap Up
As you can see, there are various excellent website builder options for small businesses seeking an effective online presence in 2023. Through careful research and deliberation, aspiring entrepreneurs can uncover the ideal platform that fits their business's needs.
Based on our research on the leading website builders in 2023, we have determined that Webflow, Shopify, WordPress, Wix, and Squarespace are among the most promising platforms.
No matter which one you ultimately choose, investing in an excellent website builder will pay dividends for years to come!